Olafur Eliasson
By far the most radical form of abstraction is monochromy. The reduction of the artwork to a single colour eliminates all narrative – even a compositional one. This allows attention to be focused not only on the monochrome object in front of the viewers' eyes but also on the conditions under which their experience takes place, on the peripheral stimuli and the noise around them, on their emotional state at the moment they encounter the work, and on the essence of perception itself. The topic is not monochromy, i.e. the abstraction, but rather human perception and experience, which are at once abstract and very immediate.
Even though monochromy is often surrounded by an aura of exclusivity – it is generally considered to be hermetic, closed, even mystical (just think of Kazimir Malevich) – for me it is more about inclusion. It can be open and hospitable if we embrace it. The "mono" in monochrome does not mean that complexity is eliminated; instead, the monochrome space brings plurality with it – it is open to multidimensionality and offers this to the viewer. A certain kind of art seems to dictate to us what we should think, which can communicate to us a feeling of inaccessibility, a sense of not fitting the bill. Or it simply ignores us. Other artworks, by contrast, speak to us as subject, calling upon us to become active and to have our own experiences. Monochromy belongs to this category. It allows us to define who we are and be the author of our own experience.
From Ólafur Elíasson, "Dein monochromes Zuhören", in Lelia Packer and Jennifer Sliwka (eds.), Black & White: Von Dürer bis Eliasson, Museum Kunstpalast, Düsseldorf, in cooperation with the National Gallery, London, Munich, 2017, p. 209.
In the exhibition:
Ólafur Elíasson
Almost Perfect Circle, 2016 (12 works)
Graphite on paper
62 x 47 cm
Courtesy of the artist + Neugerriemschneider, Berlin
Frank Badur
Frank Badur's pictures require the viewer to surrender to the beauty of simplicity and the awareness that the subtlest differences in colour, material ...
read more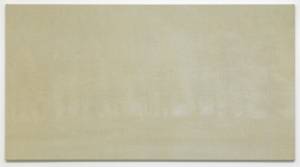 Qiu Shihua
At first glance, the paintings of Chinese artist Qiu Shihua seem to be monochrome, completely white canvases. Yet upon closer inspection, vast landscapes ...
read more