Opening Day
Free admission in the exhibition.
We recommend booking a time slot ticket.
15 Sep, 11 am – midnight, Hanseatenweg 10, 10557 Berlin-Tiergarten
Time slot tickets
Peter Ablinger and Brandon LaBelle
– Concert and Artist Talk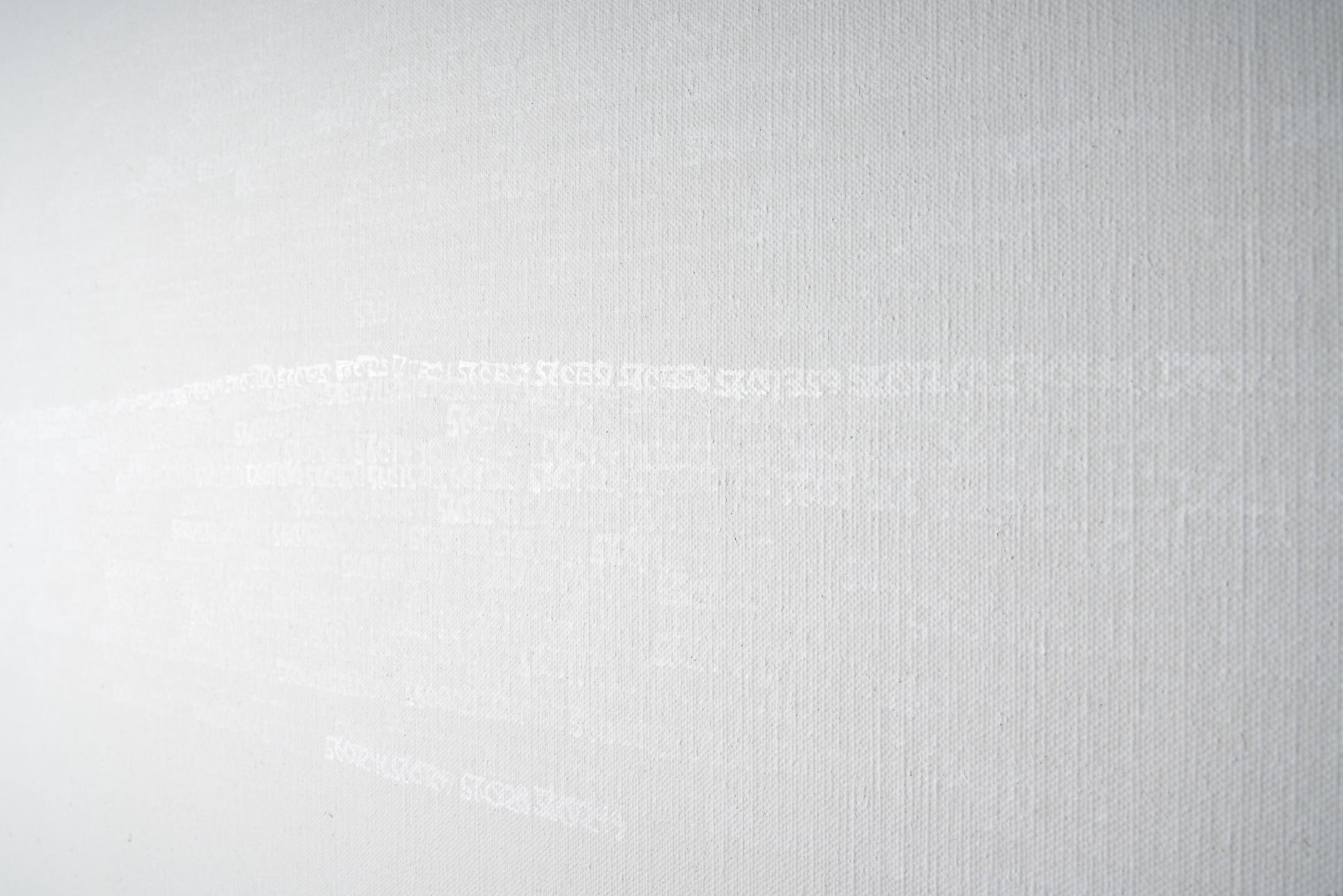 Roman Opałka, Opałka 1965/ 1-∞; Détail 5 603 154 – 5 607 249, undated © VG Bild-Kunst, Bonn 2021. Photo: Baschang & Herrmann, Munich. Courtesy of Sammlung Lenz Schönberg, Austria
Composer Peter Ablinger references the "NOTHINGTOSEENESS" exhibition with a piece for Roman Opałka from the cycle Voices and Piano. For Opałka, voice and sound are always part of his work process, interacting with the piano. Reality and perception are also the subject of philosopher and composer Brandon LaBelle's The Invisible Seminar, which examines strategies of invisibility and questions the duties and powers of appearance. Can invisibility be a discursive, creative tactic? These and other questions will be explored in conversation.
Introduction: Anke Hervol
Pianist: Nicolas Hodges
Lecture / Performance: Brandon LaBelle, The Destituent
Artist Talk, Moderation: Julia Gerlach
In German and Englisch
7 Oct, 7 pm, Hanseatenweg 10, 10557 Berlin-Tiergarten
Tickets € 6/4 or access with exhibition ticket of the day
Artist talk in the exhibition with Ulrike Draesner and Karin Sander.
Moderation: Anke Hervol
Video available from 28/10/2021 to 12/12/2021
– Cesc Gelabert dances a solo by Gerhard Bohner
© Norbert Stück
Gerhard Bohner's (1936 –1992) dance solo Schwarz weiß zeigen (Showing Black and White), which premiered at the studio on Hanseatenweg in 1983, is an artistic experiment on the nature and limits of the dancer in space and a systematic exploration of the laws of body and stage. In an exploration of the space created by stage designer Axel Manthey (1945 –1995), Bohner designed a choreography in which the dialogue between choreographer and dancer is abstracted by showing movements and the relationship between the dancer and five objects. Catalan dancer Cesc Gelabert has reconstructed Bohner's solo works over decades, most recently the Bauhaustänze in the Bauhaus Year 2019. As a performative reference to its current exhibition, "Nothingtoseeness – Void /White/Silence", the Akademie der Künste will be showing the adaptation of Schwarz weiß zeigen for the first time since 2010 as part of the Autumn Members' Meeting.
13 Nov, 8 pm, Hanseatenweg 10, 10557 Berlin-Tiergarten
Literature and NOTHINGTOSEENESS
– Reading and Talk
Alfonso Hüppi, ohne Titel, 1958. Courtesy: VAN HAM Art Estate, Alfonso Hüppi © VG Bild-Kunst, Bonn, 2021
Literary works are already represented in the "NOTHINGSTOSEENESS – Void/White/Silence" exhibition in the form of commenting postcards, artworks and installations. But nothingness, void, the colour white and silence are well-known topoi in literature itself. Cécile Wajsbrot, Lothar Trolle, Ulrike Draesner, Michael Krüger and Timm Ulrichs will read their own works or texts from literary history on the themes and talk about them, presented by Robert Kudielka.
25 Nov, 7 pm, Hanseatenweg 10, 10557 Berlin-Tiergarten
All or Nothing
– Film Programme and Artist Talk
Robert Beavers, Nina Zabicka, Silva das Fadas und James Edmonds reconstructing Gregory Markopoulos's ENIAIOS. Photo: Petra Graf, Berlin. Courtesy: Temenos Archive
"You cannot apply the principles of painting to a medium that is not painting." (Paul Sharits). Film has laws of its own, but together with other arts in the period around 1960 it focused on "zero points" that revolved not around nothing, but around the whole. The three-part film programme, curated by Alexander Horwath and Regina Schlagnitweit, contains works from the period between 1958 and 2021 – by Stephanie Barber, Yves-André Delubac, Hollis Frampton, Jorge Lorenzo Flores Garza, Ernst Schmidt Jr., Aldo Tambellini, Joyce Wieland and many more. It also offers rare insight into Gregory Markopoulos's cinematic life's work ENIAIOS (1947–91), presented by the film artist Robert Beavers.
4.12., from 5 pm, Hanseatenweg 10, 10557 Berlin-Tiergarten
Programme:
5pm – Part 1
Jorge Lorenzo Flores Garza 1/48'' (2008) 35mm, colour, sound, about 1 min
Viktoria Schmid A Proposal to Project (2016) 16mm, colour, sound, 2 min
Peter Kubelka Arnulf Rainer (1958-60) 35mm, b/w, sound, 7 min
Stan Brakhage Mothlight (1963) 16mm, colour, silent, 4 min
Ernst Schmidt jr. Weiß (1968) 16mm, b/w, silent, 1 min 20 sec
Aldo Tambellini Black Trip (1966) 16mm, b/w, sound, 4 min
Ernst Schmidt jr. Filmreste (1965-67) 16mm, b/w, sound, 10 min
Aldo Tambellini Black Trip 2 (1967) 16mm, b/w sound, 3 min
Joyce Wieland Handtinting (1967/68) 16mm, b/w & coloured, stumm, 6 min
Paul Sharits T,O,U,C,H,I,N,G, (1968) 16mm, colour, sound, 12 min
Break
6.30 pm –  Part 2
Morgan Fisher Projection Instructions (1976) 16mm, b/w, sound, 4 min
Hollis Frampton Surface Tension (1968) 16mm, colour, sound, 9 min
Yves-André Delubac Le Chant des signes (Gesang der Zeichen) (1972) Digital (original 16mm), b/w, sound, 17 min
Gustav Deutsch Film ist mehr als Film (1996) 35mm, colour, sound, 1 min
Stephanie Barber Another Horizon (2021) Digital-from-16mm, colour, sound, 9 min
Jorge Lorenzo Flores Garza On the Road by Jack Kerouac (2013) 35mm, b/w, silent, 14 min
Jorge Lorenzo Flores Garza 1/48'' (2008) 35mm, colour, sound, 1 min
Break
8 pm –  Part 3
Robert Beavers (Filmmaker and co-founder of Temenos Archive) will present two reels, about 50 min, from Gregory Markopoulos's the 80 hour monumental film ENIAIOS (1947-91) by presenting Bliss (1967, 16mm, colour, sound, 6 minutes) followed by 25 minute version of Bliss edited by Markopoulos for ENIAIOS and a portrait of Alberto Moravia.
Curator Alexander Horwath talks with Robert Beavers (in English)
Closing event: Sound Effects
– with Crys Cole, Arnold Dreyblatt, Philipp Sollmann
NTSC. Foto: Arnold Dreyblatt, 2021 @Bildkunst e.V.
The evening programme focuses on three composers / sound artists who work both in Berlin and internationally and whose musical activities have never been presented before at the Akademie der Künste. The live performers respond conceptually to the exhibition theme "nothing-to-see-ness", combining electronic, acoustic, haptic and perceptual audio processes, while referencing their diverse musical biographies in an evening of exploratory sonic imaginations.
11 Dec, from 7 pm, Hanseatenweg 10, 10557 Berlin-Tiergarten
Our Cookies
We use cookies to optimise site functionality and give you the best possible experience. If you "Accept all cookies", you agree to the use of technically necessary cookies and those used to optimize the website. For more information, please see "Cookie Settings" and our Privacy Policy.
Manage settings
Please select your preference. You can change it at any time.
To get the best possible service, this cookie should not be disabled.
A statistics cookie anonymously collects and reports information about which content is more or less interesting. This allows us to tailor them better to your preferences.